Think about all of the notes you have to take on a daily basis. It's something we all do. Good note taking is based on being able to get your thoughts and ideas on the page quickly and efficiently. Letterspace doesn't distract you. It provides a noise free space to jot things down. So simple, so powerful.
# Key Features:
– Beautiful markdown syntax highlighting.
– Notes with #hashtag and @mention are grouped together in Sidebar.
– Press ⌘⇧O to open note using keyword search.
– iCloud keep your notes up to date across all your devices.
– 7 Purchasable colour themes: Sepia Green, Yellow, Maroon, Cobalt Blue, Matcha Green, Charcoal, and Dark Side.
# To-do Lists:
Start a new line with dash a pair of squared bracket. You can tap on them like a checkbox to toggle between complete and incomplete state.
– [ ] This is an incomplete item
– [x] List syntax is required (Either unordered or ordered list)
– [x] This is a complete item
What's New
Version 1.6.0:

Changes:
Add options to sort notes by modification time, and title.
Improve keyboard tab and shift+tab navigation.
Open Quickly now support hashtag, and mention.
Fixes problem with cmd+delete keyboard shortcut.
Fixes problem where in-app purchase doesn't sync between iOS and Mac version.
Re-adjust monospace font height for each typeset.
Preserve whitespace indent when press return twice.
Improve stability and many minor bug fixes.
Compatibility
OS X 10.10 or later, 64-bit processor
Screenshots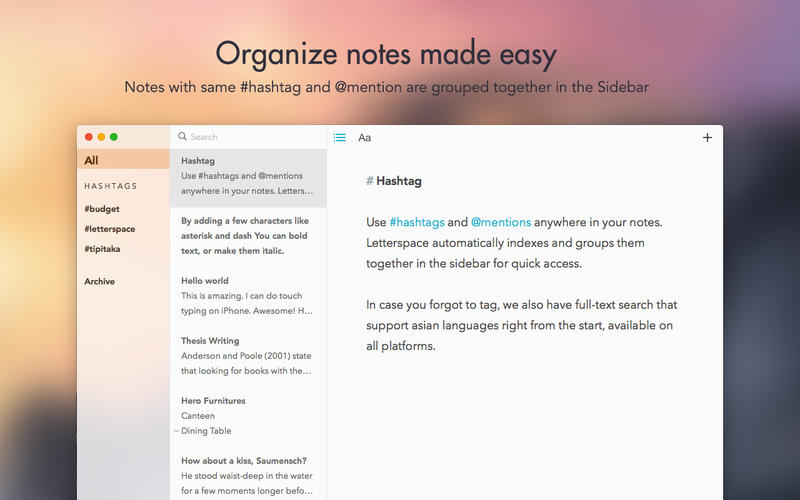 Download Now